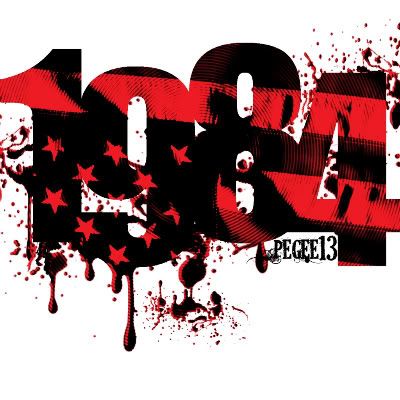 It pains me to say it, but you will probably never hear a solo album from me. I have no excuses. It's just a conclusion I can make from having spent years in the game.
I think that I have some form of artistic A.D.D. Every project I fully delve into becomes a collection of songs that will inevitably sit on the back burner until the next project comes along. This blog is an attempt to work with this "disability" of sorts.

I once had a spacey art teacher who told me that the reason I can't finish anything is because I'm an Aries. Great. Now I can use that as an excuse (side note: Anax is an Aries too).

This is a track I made a while back during the height of the presidential primary last year. There was just so much stress at that point in time. Political stress. Evidently, there was enough stress for me to write a complete song (a very rare thing).

Times have changed, but I think most of the song lyrics still apply. I'm still stressed (even though my dude won). The world hasn't "changed" yet like it needs to. It it probably never will...
Here's the lyrics:
We cross words with cross words/ get your pencil/ you're better off copping rock off of officers/ does your dental plan cover your cell mate?/ just call it a civil union/ you never saw the civil servant serve you illusions/ on a pallet so sick and ridiculous/ galaxy driven on a gallon a second secular living/ your god is a fallacy/ Minutemen, Blackwater non-citizen/ stack dollars on top of cadavers ad-infinitum/ Yeah, I rock awfully sick for your typical stereotype/ on some William Tell's arrow and splitting that apple in six tonight/ which might be the most scientific approach we've seen in seven years/ Stem cells stay lower than roaches here, hell/ but we're pretty happy until the NASDAQ dives/ well, wealthiness is godliness to the abstract eye/ sell sad sacks Macbooks and Cadillacs/ "Why ask why?"/ world trade told the world it would behave and it couldn't.
Your plane is flying low/ You're heading for a hill/ So kiss your ass goodbye/ And Tell the rest hello.
They're saying "Burn, Robin Hood, burn. This is Sodom/ You ought to have learned by now you're powerless/ you've got to adjourn your little power trips and bottomless ego sequences/ See, as frequently as we go to war you're delinquent/ on utilities, and be it that you smoke weed and all/ we've seized your estate, and have come here to facilitate your free fall/ You need not resist, or we'll take the pot that you piss in/ Get Chopped and Screwed in my district, get put in an awkward position/ You're this close away to being blacklisted/ on some Kucinich/Edwards ammendment to the constitution, don't get it twisted/ This is "The Lives of Others"/ those we must've forgotten to mention"/ that's you, the futile youth, flee juvenile detention/ Truth seeks you, young grasshopper/ We be the locust to cash cropping, monopoly money making companies taking our property from us/ Drilling and killing all for the windfall and profit/ And we've gotta get involved to stop it, come on y'all...
1. Pegee 13- 1984 (Prod. Taco Neck)
2. Pegee 13- 1984 (Instrumental)
3. Pegee 13- 1984 (Acapella 75.0bpm)